Ridi Vihare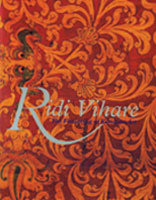 Author
SinhaRaja Tammita - Delgoda
ISBN
95511372X
Publisher
Stamford Lake
Pages
175
Size
238x290x25,HB
Weight
1425 g.
Our Price
Rs. 3,750.00
Known in Sinhala as the "Silver Vihare", the shrine of Ridi Vihare has its origins during the early days of Buddhism in Sri Lanka. Heir to a tradition which dates back to the early Anuradhapura period, its beginnings are shrouded in myth and legend. Over the centuries the vihare has become a veritable treasure trove of Sinhala art: painting, architecture, sculpture, ivory carving and metalwork. This work traces the art and history of the temple from the 2nd century B.C. to 1815 A.C.

The greater part of what remains belongs to the late medieval era in Sri Lanka's history, known today as the Kandyan period (1592-1815).It is the product of a brilliant period in Sri Lanka's recent past, a flowering of art, religion and culture which took place during the reign of King Kirti Sri Rajasingha (1747-1782).This renaissance was pioneered by two great monks, the Sangharaja Saranankara and his close disciple and deputy, the High Priest of Ridi Vihare, the Venerable Siddartha Buddharakkita, who was to become the first Mahanayake of Malwatte.

From this time Onwards, Ridi Vihare has been one of the great temples of the Kandyan Kingdom and over the course of last two hundred and fifty years three of its High Priests have become the supreme heads or Mahanayakes of the Malwatte Nikaya,one of the two great monastic orders of Kandy. Its current High Priests has just become the new Mahanayake of Malwatte, the chief of the order.

Ridi Vihare opens a door to the forgotten world of the 18th century, its turbulent politics and its rich artistic heritage. It reveals much about the culture of a hidden and often closed world, opening our eyes to things which we have hitherto seen only in the half light.