Quest for Shangri la : Stories and Diversions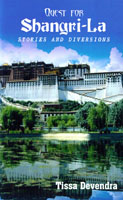 Author
Tissa Devendra
ISBN
9789556651416
Publisher
Vijitha Yapa Publication
Pages
202
Size
140mmX210mm
Weight
400 g.
Our Price
Rs. 590.00
Tissa Devendra has had a career of over forty years in the public service and UN Agencies. He is a graduate of the Universities of Ceylon and Cambridge. He has served in most districts of the Island and been Chairman, Public Service Commission and Salaries Commission 2000. He writes regularly to the newspaper on his experiences in the provinces, the history, culture and folklore of Sri Lanka in which he has an abiding interest.

In 1987 he scripted an acclaimed TV documentary on George Keyt. He is the author of Sri Lanka: The Emerald Island (Lustre Press - Delhi 1994), Tales from the Provinces(Sarvodaya Viswa Lekha - 1998)which was short-listed for Gratiaen Award.

His books for children are: Princes, Peasants and Clever Beasts (Sakya Publishers- 2002)which received an award from the National Book Development Council and, More Princes, Peasants and Cleve Beasts which are a retelling of Sinhala folk tales. He also wrote, On Horseshoe Street (2005), Memoirs of a Penpusher, Kachcheries and Commissions (2010) by Vijitha Yapa Publications.

He now lives in Colombo with his wife Indrani, devoting his leisure to writing and his grandchildren.