Clowns to the left of me jokers to the right and here i am stuck in the middle again!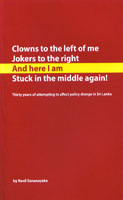 Author
Ranil Senanayake
ISBN
9789555303200
Publisher
Author publication
Pages
169
Size
130 mm X 200 mm
Weight
400 g.
Our Price
Rs. 500.00
Clowns & Jokers presents a commentary on development, conservation and forestry in Sri Lanka. It is a Collection of articles by the author, published over the years 1978 - 2008, which challenges Sri Lanka's policy decisions over the previous three decades.

This book hopes to play a small part in raising awareness of the mistakes made in the past, so we can avoid making the same mistakes in the future.