Sidney Sheldon's Angel of the Dark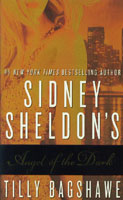 Author
Tilly Bagshawe
ISBN
9780062126894
Publisher
Harper Collins USA (April 2012)
Pages
290
Size
150mm X 230mm
Weight
500 g.
Our Price
Rs. 1,730.00
When Detective Danny McGuire is called to the Hollywood home of the very wealthy art dealer Andrew Jakes he is horrified by the sight that greets him, Andrew has been brutally murdered and his beautiful young wife Angela raped. A tormented Danny is determined to find the man who committed this crime, but the case is closed when Angela disappears never to be found and there are no more leads to follow, leaving Danny haunted by this unsolved mystery.
Many years later Matt Daley decides to write a documentary on Andrew Jakes, his biological father, but the man he never knew. After much research he discovers that there have been other murders committed in exactly the same way, rich men being killed, their young wives raped and then vanishing.
Matt contacts Detective McGuire who is now living in France, married and working for Interpol, but he has never forgotten the tragic Angela Jakes and now the case appears to be coming to the surface again.
Enjoyed this book, although not quite up to the standard of the late Sidney Sheldon it was still a good read.
Loading..