Target Tirpitz: X-Craft, Agents and Dambusters - The Epic Quest to Destroy Hitler's Mightiest Warship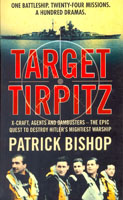 Author
Patrick Bishop
ISBN
9780007319244
Publisher
HarperPress
Pages
390
Size
130mm X 200mm
Weight
430 g.
Our Price
Rs. 1,405.00
A gripping account of the epic hunt for Hitler's most terrifying battleship – the legendary Tirpitz – and the brave men who risked their lives to attack and destroy this most potent symbol of the Nazi's fearsome war machine.

Tirpitz was the pride of Hitler's navy, the largest and most powerful battleship in Europe. To Churchill, she was 'the Beast', a menace to Britain's supply lines and a threat to the convoys sustaining Stalin's armies. Tirpitz was said to be unsinkable, impregnable – and she haunted the imaginations of the men directing Britain's forces, casting an almost supernatural shadow over the war effort. No other target attracted so much attention.

In total thirty-six major Allied operations were launched against the battleship. They included desperately risky missions by human torpedoes and midget submarines and near-suicidal bombing raids. Yet despite these heroic efforts, Tirpitz stayed afloat. It was not until November 1944 that she was finally destroyed by RAF Lancaster Bombers flown by 617 Squadron – the Dambusters – in a gruelling mission that tested the very limits of human endurance.

The man who led the raid – Willie Tait – was one of the most remarkable figures of the war, flying missions almost continuously right from the start. Until now his deeds have been virtually unknown. With exclusive co-operation from Tait's family, Patrick Bishop reveals the extraordinary achievement of a man who shunned the spotlight but whose name will be renowned for generations to come.
Loading..