Photographic Guide to the Birds of Sri Lanka & India, A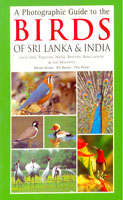 Author
Bikram Gewal, Bill Harvey & Otto Pfister
ISBN
9789628734658
Publisher
Periplus, 2002 Edition
Size
125 x 187 mm, 512pp
Weight
900 g.
Our Price
Rs. 1,050.00
Featuring over 800 species of birds and over 1,000 full colour photographs many of them appearing for the first time. Photographs,
text and maps in close proximity provide and excellent at - a - glance overview.

Authoritative text and a distribution map for each species described.